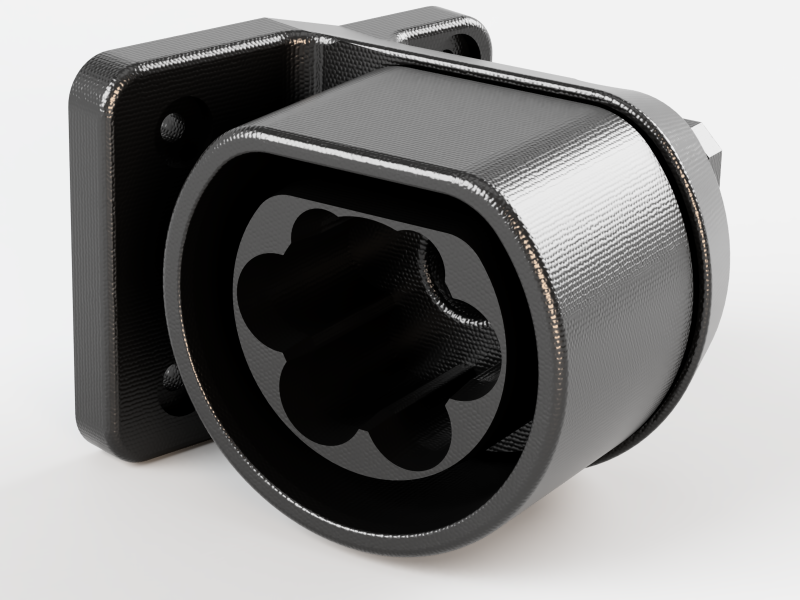  
Type2 AC Charging plug wall mount (without lock clip)
Space-saving, secure Type2 plug holder for your charging cable.

(compatible Mennekes)
Often garages are quite narrow, so that an installed charging box and a wall mount for the plug unnecessarily limit the space on the car.
Therefore, there is this space-saving holder for the Mennekes Type2 plug.
The plug is held at an angle of 15° to the wall. Far enough that you do not scrape your knuckles on the wall and so little that the space in the garage is not limited.


The wall mount can also be printed mirror-inverted to be able to grab the plug with the other hand.
Can be produced in several colors, see picture. (delivery time ~ 2 weeks)

Features
   The plug contacts are protected against splash water
    Space-saving
    Cable clamp on the back (so that the other end of the cable can be fixed)
    (can be adapted to your needs, e.g. to single-phase thicker cable)


For mounting you still need 4 screws (No countersunk head) and 4 dowels suitable for your wall.
We propose 4mm semicircular head screws.

This wall mount is manufactured from regeneratively produced bio-plastic, also known as liquid wood.
This material is not made from petroleum!



Do it yourself" option

With the "Do it yourself" option, you will be sent the printed parts without any post-processing.
In this case you have to cut the threads in the plastic yourself (1x M3, 2x M4 and 1x M6)
and installation as well as ensure the mobility of the probe (filing / deburring).

Time needed for untrained persons: approx. 15-30min. (You need the appropriate tool)


No customer reviews for the moment.